And I forgot it til my Twitter account started lighting up with messages and support! Thanks for the subtle reminder ladies!!
I was blown away to be included in a tweet from Minister Ciaran Cannon, whom I'd the pleasure of meeting face to face last weekend at the CESI conference. Ciaran has been so supportive of How I Learn and all things techie in education. I honestly felt amazed to be included in such a highly praised group of ladies and educators! Still feel like an infant playing with the big girls though!!
There are so many wonderful women in my life I'd be hard pressed to know where to start naming them! And besides which I did that
last year
!! But there are a few I want to essentially name and shame as delightful colleagues I've gotten to know since this time last year.
Leigh Graves Wolf (
@gravesle
) who has become an integral part of my "go to ladies" for sharing our passions and lives. I can't imagine my inbox or Twitter timeline without her! Thank you Leigh for all the inspiration this year
Bianca Ní Ghrógáin (
@groganbee
) one of our news CESI execs and a teacher well worth a follow, her class do wonderful things and they obviously adore her! I was fortunate enough to get to know Bianca better while in London at BETT this year and I'm so glad I did. I love that she shares her ideas and keeps me in subbing ideas!
Helen Hamill (
@helenhamill
) one of the strongest women I know. I've gotten to know Helen eile through Twitter thanks to her sons blog and we've gotten along really well. Helen's support for her family is endless and her own blog is a constant source of idea and thoughts for me to ponder on, thanks Helen
Kate Murray (
@kateingalway
) another newbie to my list of must follow on Twitter. But the work Kate (and Larry do) is unreal, again I got to know her better at BETT and I'm so glad I did. I'm looking forward to working closer with her (and Larry) over the next few years and hope some of her enthusiasm wears off onto me!!
Maria O Sullivan/Mernagh (
@MariaMernagh
) my favourite librarian (and that's saying something) Maria's book loving self has been an epic reminder about everything I love about reading and books. Since tweeting her almost a year ago I've read more books then I had in a while and have been rereading those books I loved as a kid. Maria also has a pet Bee I have a soft spot for (
@SummerBuzz
)
Of course a special mention must go out for the women I mentioned last year, my admiration for them hasn't changed in the 12 months since I blogged about International Womens Day, if anything it's grown. Thank you Pam O Brien, Pam Moran, Catherine Cronin, Mary Loftus, Mags Amond, Adrienne Webb, Miriam Judge, Elisabeth Oldham, Anne McMorrogh,Marie Collins, Joy Corkery, Niamh Quigley, Danielle Errickson, Maggie Green, Sabrina of Kopper Hair, my mother and family.
I can't wait to see what will happen between this International Womens Day and #IWD15 but I can sure the next 12 months will bring even more fantastic women into my life.
And some day soon I've got to mention the marvelous men too!!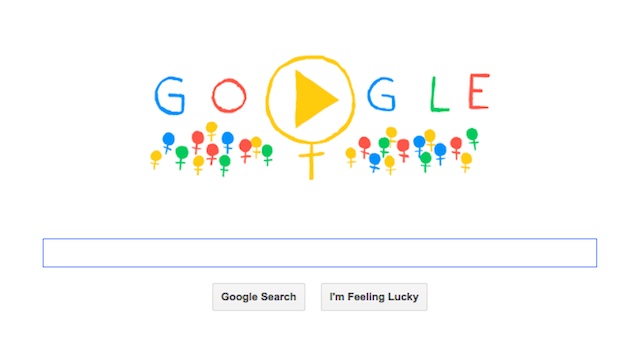 Don't forget to check out the Google Doodle!!